Many journalists have been enquirer to attend the press conference held at the Hungarian Atomic Energy Authority to launch the year of 2015. Mr Gyula Fichtinger, Director-General of the HAEA emphasized the particular importance of openness and transparency in regulatory activities and said that the nuclear regulatory authority is making significant efforts to that end. Among other things, public hearings and an open day are held, conferences are organized and from 2015 the Authority also has its Facebook page.
Mr Szabolcs Hullán, Deputy Director General for Nuclear Safety Issues drew attention to the fact that in order to guarantee security, the HAEA is constantly monitoring nuclear facilities: a total of 412 inspections took place last year. The number of reportable events at the Paks nuclear power plant has decreased, and it was favourably low in other facilities. He also added that in 2014 all events were rated INES 0, which means they were not significant in terms of nuclear safety.
Mr Kristóf Horváth, Deputy Director General for General Nuclear Issues emphasized that the Hungarian specialists regularly participated in international nuclear safety review missions, and international training courses had been held in Hungary, which showed the international recognition of our country. He added: "In 2015 HAEA will be chair of the European Nuclear Security Regulators' Association (ENSRA)." and "In 2015 we will be preparing for a large-scale international nuclear emergency response exercise of the OECD Nuclear Energy Agency (NEA)."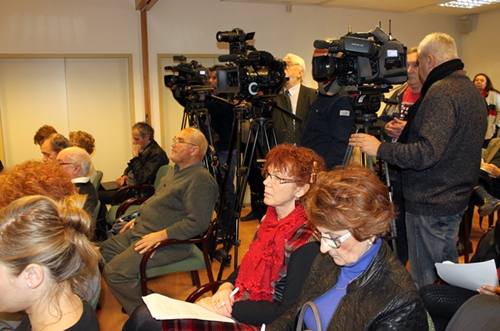 In response to a journalist's question Mr Gyula Fichtinger said the Authority had adequate resources to perform the site evaluation and assessment licensing tasks arising from the implementation of new units. Additional resources necessary for the licensing process and subsequent performance of regulatory supervision tasks are still under discussion, but the Authority already has the financial means to hire an additional staff of twenty. In relation to the cooling of the new units Mr Fichtinger said that any solution could be considered: fresh water cooling using water from the Danube, or installation of a cooling tower. Specific calculations can determine which technology is best to be used.


The press release and the presentation held at the press conference are available here (in Hungarian).