At the 62nd General Conference of the International Atomic Energy Agency, Member States adopted the key decisions that could strengthen the IAEA's activities in the field of nuclear science and technology, nuclear safety and security and safeguards in the coming years. The General Conference offered once again the opportunity for the Hungarian Atomic Energy Authority to hold a number of top-level bilateral meetings with representatives of the authorities with which a bilateral agreement or a memorandum of understanding is in force.
Around 2500 participants in the representation of 153 member states, international organizations and non-governmental organizations attended the plenary session and the nearly seventy side events of the 62nd IAEA General Conference between 17 and 21 September 2018.
The Hungarian delegation was led by Gyula Fichtinger, Director General of the HAEA. The speech on behalf of Hungary was delivered by Ms Andrea Beatrix Kádár, Deputy State Secretary for the Ministry of Innovation and Technology. In her speech, Ms Kádár mentioned the most important events related to the nuclear field that occurred in our country since the 61th General Conference in 2017.


Under bilateral agreements and memoranda of understanding concluded by the HAEA, regular annual meetings were held with the leaders of the Moroccan, Polish, Serbian, Ukrainian, Romanian, Saudi, Belarusian, Turkish, Finnish, Russian, Croatian and American nuclear authorities. The main topic of the meetings included the evaluation of the past year and the direction of next year's cooperation.


A Hungarian-Slovenian-Slovak-Czech quadrilateral meeting was organized by the respective nuclear authorities, where professional issues needing the establishment of a common approach towards the international organizations, were primarily discussed by the participants.


Gyula Fichtinger also held a bilateral meeting with Hans Wanner, head of the Swiss authority and chairperson of the Western Europe Nuclear Regulators Association (WENRA), where the most important topic was WENRA's future role and strategy.


For the first time, a meeting was held with the Bulgarian nuclear authority and in its framework, a memorandum of understanding was signed. At the meeting, the parties also determined the first practical steps for cooperation. Accordingly, expert delegations will visit each other's countries in the near future.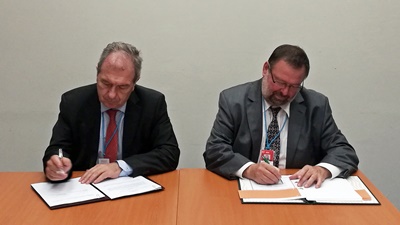 The Radioanalytical Reference Laboratory of the National Food Chain Safety Office was redesignated as Collaborating Centre of the IAEA for the fourth time.The Collaborating Centre redesignation plaque was handed over on the margin of the General Conference.


Within the framework of the IAEA's technical cooperation programme, Mrs. Ana C. Raffo, the new head of the Division for Europe, Department of Technical Cooperation, invited the Hungarian delegation to an introductory discussion where the experts reviewed Hungary's past commitment and future opportunities in the framework of regional and national technical cooperation projects.